36th America's Cup Wins "Most Successful Sporting Event Broadcast" at 2021 Sports Business Awards
by America's Cup Media Nov 19, 2021 1:54 AM PST
November 19, 2021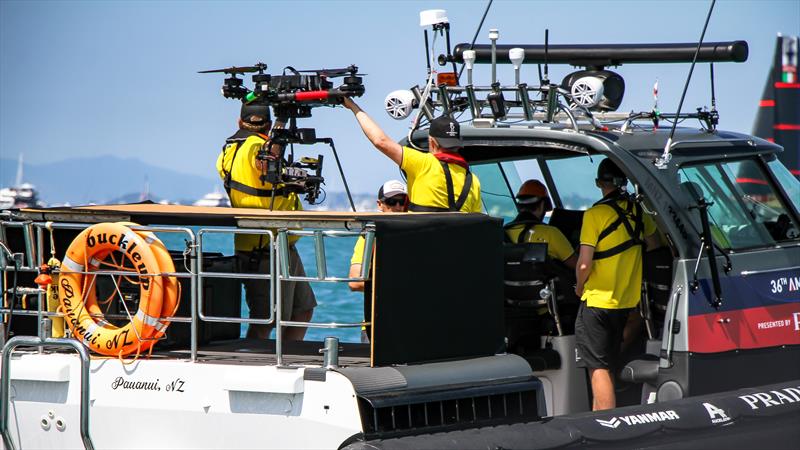 TV Drone Recovery – Waitemata Harbor – Xmas Cup – 20th December 2020 – 36th America's Cup © Richard Gladwell / Sail-World.com

TV broadcast of the 36th America's Cup presented by Prada has won the award for "Most Successful Sports Event Broadcast" at the prestigious Sports Business Awards 2021
The 36th America's Cup held in Auckland between December 2020 and March 2021 was the most-watched America's Cup ever. The event reached a total global TV and streaming audience of 941 million and its dedicated audience of 68.2 million is 3.2 times that of the 35th America's Cup in Bermuda.
Social media delivered $715 million during the campaign at a 7% engagement rate. Live streaming increased record television viewership by 19%.
Benefiting from significant technological innovations, the production set new standards in terms of scope of coverage, graphics, sound systems and cameras. Distribution focused on free-to-air networks and major channels while reserving the digital rights to allow the Cup to be streamed live on its own website and social media with unlimited digital highlights on all platforms.
In their assessment of the America's Cup category and broadcast, the 2021 Sports Business Awards judges said, "Excellent comparative results and excellent articulation of progress under challenging environmental conditions.
The introduction of several new production innovations, including significant and complex technological advancements, has helped to maximize global reach and engagement. Significant social growth as well.
In winning the award, broadcast coverage of the America's Cup beat beIN Sport's coverage of EURO2020 football.
Grant Dalton, CEO of America's Cup Event and Emirates Team New Zealand, said: "We are very proud of this award. We place enormous importance and resources on television production for two main reasons: driving innovation in all aspects of the event is rooted in the America's Cup. Second and most importantly, fans, sponsors and business partners demand the most innovative extensive coverage possible and we cannot have a successful event without these stakeholders.